This page is dedicated to my Father, for making me the man I am in the Martial Arts World today. I thank my Father for this.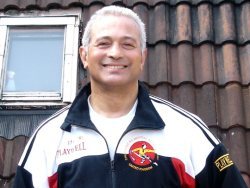 I started training in 1958. In 1959 my Father taught me boxing, as he was all India Boxing champion for many years. In his absence my elder brother Gerry would teach me, as my Father would be away from home due to his work. At the age of 9 years old I was enrolled into Kalari (the mother of all martial arts from India). I didn't want to go for my training, being unfit, lazy and always getting beaten. However, my Father pushed me into it and my family supported me all the way!
At the age of 16, I took up Kickboxing, then Jutsu-Ruy, while still training in Kickboxing. At 17 I took the silver medal in the Asian games.
I stopped training for 8 years due to the civil war where schools were burnt, or closed down.
This training took place in East Pakistan and India. Because of my martial arts background I have been able to get better jobs. I have worked for the United Nation Merchant Navy as a Radio Operator, then in the British High Commission in Dhaka Bangladesh as a Security/Interpreter. I have also worked, as and when, as a Body guard to British Diplomats.
I came to England in 1978 and soon earned a fierce reputation in North and Central London. Not in tournaments but on the streets, as I was picked on regularly and ended up in a street fight.
After moving to Rainham, Kent in 1985, my martial arts skills soon became known. I have worked as a doorman for night clubs in London, Maidstone and Gillingham.
As everybody was doing some form of martial arts, I needed to create a martial art for the 21st century, which I did. It is call Chum Kune Do and it uses all the martial arts knowledge I have trained in.
The last Tournament I had entered was the world championship in Germany in 2004.
In 1990 I opened my Chum Kune Do Martial Arts Academy in Rainham, Kent.
I received my First Ever UK Hall Of Fame in 1998.
Then in 1999, I received my 35 years Merit Award Hall of Fame. I have been presented with my Masters Degree in Chum Kune Do and my Master Instructor Hall of Fame was awarded to me by the World United Martial Arts Federation.
I have coached my students from Inter-school, County, British and International level to become World Champions in Kung Fu, Karate, Kickboxing and self-defence in forms and contact fighting.
My Degrees Are:
Bachelor of Science in Oriental Arts and Therapies
9th Dan Chum Kune Do (Black Belt International)
5th Dan Black Sash in Chinese Kickboxing (World United Martial Arts Federation)
5th Dan Black Belt in Sha Soo Doo Jitsu Ryu. Rank Certification. Under the American Temple Training Union. Presented by Sha Poe Ryu Anthony Elam and International Combat Martial Arts Union.
4th Dan Black Belt in Shotokan Karate (under Shihan Raymond Lee in London)
2nd Dan Black Sash in Shoaling Fist Kung Fu (under Master Yop Leong, London) 2nd Dan Black Belt in Tae Kwon Do (ITF)(under Master Ree Ki Ha, Kent)
2 years Jitsu under Shihan Bryan Cheek London
4 years of Jitsu-Ryu and Aikido
9 years of Kalari in India and East Pakistan (Now is known as Bangladesh)
My Achievements Are:
Integrity, Honour, Respect, has earned Shizu Clifford worldwide recognition and is how Shizu Clifford empowers Chum Kune Do into a physically and devastating martial art. He is a true Pioneer of Chum Kune Do and Martial Arts, around the World.
2010 Action Martial Arts Magazine Hall of Honour - Grand Master of the Year, England
2008 Awarded 9th Dan in Chum Kune Do at the Black Belt International Award Gala Night
2008 Awarded Dedication and Commitment to the Martial Arts (By BBI)
2008 Awarded Master Instructors Award (By BBI)
2007 Awarded by Action Martial Arts Magazine USA. Hall of Fame Exemplary Dedication to the Martial Arts for over 35 Plus years. Along with many martial arts superstars and Martial arts Legends, such as Super Foot Bill Wallace, Don the Dragon Wilson, Cynthia Rothrock, Karen Shepard, Jason Lau, Michael Jai White, Silvio Simac to name just a few
2006 National Martial Arts Award, for contribution and development of the martial arts in the UK (BBI and BNMAA)
2005 Awarded Pride in Medway Outstanding Achievement in recognition of my outstanding contribution to Medway, Kent
2004 Awarded Sport person Award by University of Kent, Medway Council and KM Messenger
2004 World Championship at Worms Germany
2003 Hall of Fame Master Instructor of the Year, Awarded by World United Martial Arts Federation (Awarded to the Martial Arts Most Elite and Dedicated Master)
2003 British Open Champion in Forms and contact fighting
2002 South East open kickboxing champion
2000 World Champion at Trapani and Marsala Sicily Italy
2000 International Referee in Kata and contact fighting (W.U.M.A. Italy)
1999 Hall of Fame 35 years Merit Award (World United Martial Arts Federation)
1998 Awarded, UK First ever Hall of Fame out of 400,000. Instructors (I was one of 17 to received the Award for Instructor of the year)
15th May 1990 the birth of Chum Kune Do Academy, Created for the 21st Century and to pass onto students